Sales Engineer / Sales Representative
This position has been filled.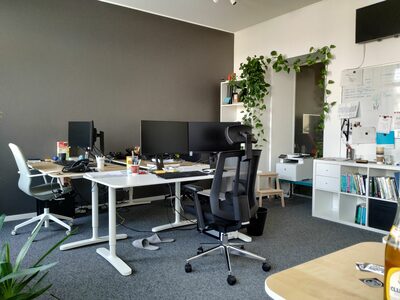 As a web consulting and services company active in various diverse sectors, TenTwentyFour1024 has for a long time been exclusively focussing on services and operating without a dedicated sales person.
Today, we are diving into uncharted territory with a product that has a solid technological foundation, unique features and a sensible value proposition. TenTwentyFour1024 has a great team of developers and system operators building awesome stuff, but we're missing that one person to spread the word about – and cover the sales part of – our products. And that is why we're looking for a sales representative with sound technical understanding or a sales engineer to join our team.
Your role
As a member of TenTwentyFour1024, you'll be working closely with management to define a sales and marketing strategy as well as a prospecting plan. As a sales engineer at TenTwentyFour1024, working from our offices in Esch-sur-Alzette when you're not on the road, you will be responsible for looking up potential customers and interest them in our main products.
Having contacted prospects via e-mail, phone or dropping by their offices, you will be arranging appointments in order to give live demonstrations of the platform to the prospects' representatives. You'll be following up on existing accounts to gather feedback and increase customer satisfaction and retention, and you'll be passing on any change- and feature requests to the development team.
TenTwentyFour1024 has made a habit of looking for team members dedicated to their work, even if they don't have countless years of experience. We believe that great talents have the ability to learn quickly and to excel in their domain. While experience can be acquired, persistence, the drive to learn and succeed, and confidence should be some of your strongest personality traits.
Your responsibilities
Designing, establishing and executing prospecting plans to identify promising leads.
Making phone- and house-calls to the identified prospects to arrange for presentation appointments.
Preparing a sales pitch and presenting our product to potential customers.
Following up on fresh and existing customers to identify any potential discontent.
Gathering feedback from failed sales attempts and using that information to improve the sales strategy.
Coordinating feature requests, milestones and bug reports with the development team.
Your strengths
You're a good fit for this job, if you…
…are able to learn quickly and not afraid to take initiative.
…are self-confident and not easily embarrassed by challenging questions.
…have an outgoing and sociable character and love to talk to people, be it face to face or over the phone.
…have prior experience in setting up a sales strategy and conducting sales negotiations.
…have a basic understanding of web technologies or an incline to quickly get up to speed.
…have great written and spoken skills in English or French. Being able to understand and write Business-English is a must. Luxembourgish and German are considered an asset but not mandatory.
About TenTwentyFour1024
Founded in 2013, TenTwentyFour1024 is a young technology company determined to deliver high-quality, user-friendly and thoroughly tested web applications. We strive to bring test-driven software development and *nix-based free/libre software solutions to our customers in and around Luxembourg. At TenTwentyFour1024, we live Information Technology Craftsmanship.
What we offer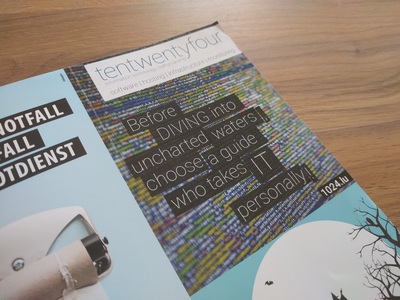 Life at TenTwentyFour1024 is not all cakes and ale, delivering great products is a tough job. But we're actively doing our best to make it a fun and friendly place to work at.
A professional development process (Agile methodologies, code review, version control, continuous integration, DevOps approach).
No dress code and flexible – which doesn't stand as a euphemism for long – working hours.
Attractive and varied opportunities for personal development and career advancement (On-the-job reading, paid conferences and trainings).
A fitness-allowance of up to 100 EUR/month, to be freely spent on any physical activities (apparel, registrations, membership fees).
A free selection of more or less heavily caffeinated beverages – and the occasional after-work refreshment.
An equal vote in decision taking and the opportunity to shape the company's heading.
A flat hierarchy as well as a lively and creative working environment.
The option to work from home – or wherever you prefer – several days a week (within legal constraints).
A salary that reflects your success as a sales representative.
We'd love to get to know you, your skills and experiences and what makes you tick. Please send your resume, as well as a cover letter to ul.ruofytnewtnet@sboj or post them by snail mail to:

TenTwentyFour S.à r.l.
1, place de l'Hôtel de Ville
L-4138 Esch-sur-Alzette
Luxembourg